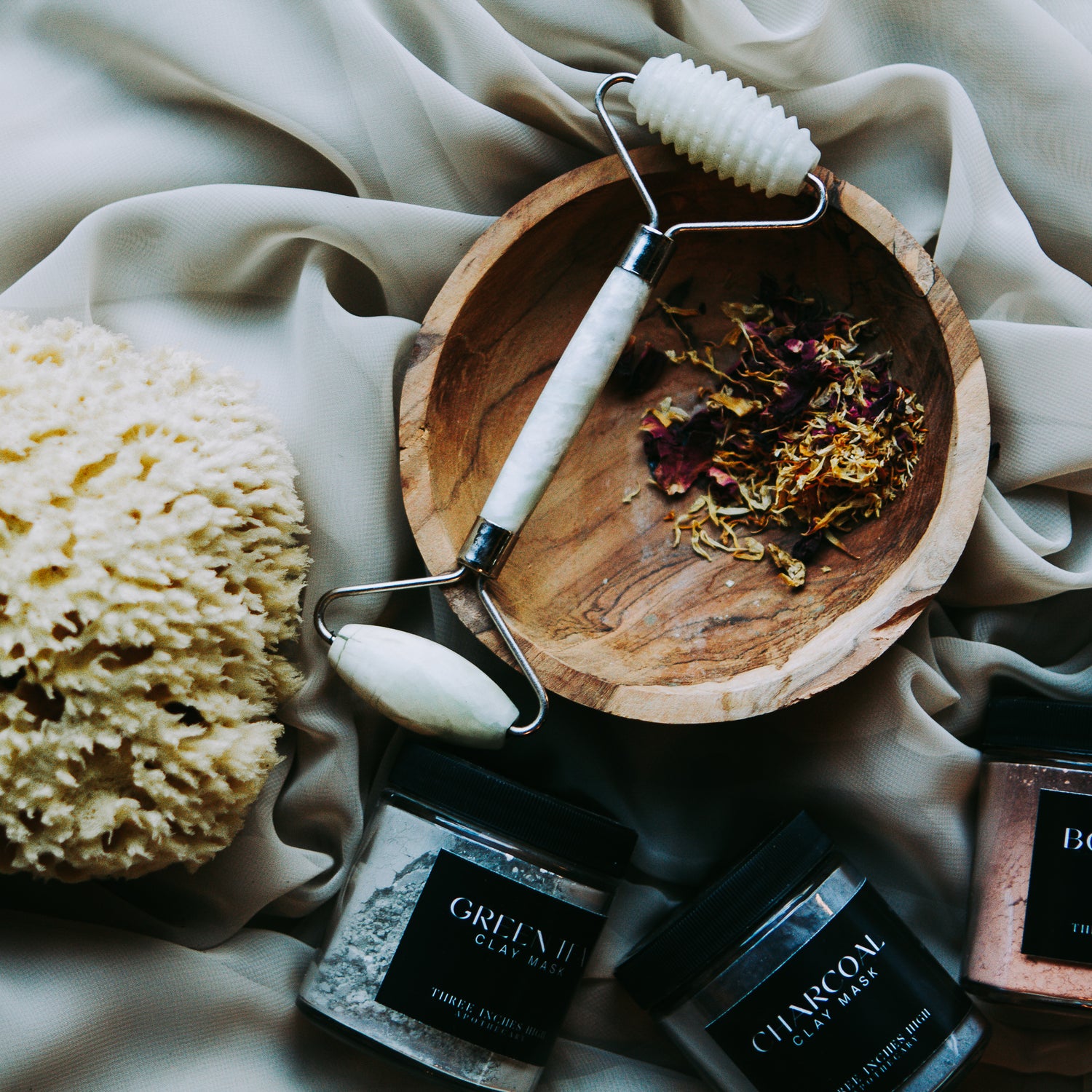 Our Ethos
Powered by Plants
At Three Inches High, we handcraft small batches of plant-based products to effectively use the seasonal tools we've been given by mother earth. Our products are inspired by the natural abundance we see in each distinct season and designed to answer a specific need in our customers. We grow as many elements as possible ourselves while working diligently to ensure every part of our process is sustainably sourced, naturally formulated, and safe for you and your home. We are dedicated to eliminating single-use plastics from our production cycle and creating innovative ways to reduce our environmental footprint.
Scroll down to find our more about our sustainability practises, our supply chain and our bottle return program!
Land Stewardship
Three Inches High recognizes that truth and reconciliation is a continual process and while acknowledging the traditional land keepers is a crucial step, there is much more work to be done. We tie our personal and brand values back to the land, and the traditional keepers of it. We are committed to living in peace and harmony with the land, plants, and animals. We are working to build positive relationships with Indigenous peoples, the wider community, and our environment.
Tkaronto is the traditional land of the Huron-Wendat, the Seneca, Haudenosaunee and most recently, the Mississaugas of the Credit River. We also acknowledge that Toronto is covered by treaty 13. This territory is the subject of the Dish With One Spoon Wampum Belt Covenant, a treaty between the Anishinaabe, Mississaugas, and Haudenosaunee that bound them to share the territory and protect the land. Subsequent Indigenous Nations and peoples, settlers and all newcomers, have been invited into this treaty in the spirit of peace, friendship and respect.
Plant-Based

Plants are at the heart of everything we do at Three Inches High. They calm our spirits, ease our troubles, and ground us to the rhythms of our planet.  When it comes to the plants we process we only use homegrown or wild-crafted botanicals to ensure that no harmful chemicals make their way into our products.

For us, growing and wildcrafting allow us to connect our products more deeply to our planet. To ensure that our craft(wo)manship is grounded in what the earth has offered.​

We grow: Roses, Lavender, Chamomile, Calendula

We harvest: Cedar, Pine, Juniper, Mint

Bring it Back

At Three Inches High, we are dedicated to eliminating single-use plastics from our production cycle and exclusively offer glass or ceramic containers for all products. Not only are glass containers kinder to our earth, they also provide an opportunity to offer an exchange program to our loyal customers!

Returning customers can exchange pre-loved bottles or jars for 10% off their next purchase. Once you have finished with an item, let us know and we will pick up the container, sterilize and refill it for future use. We provide you with a customized coupon code to activate your discount the next time you check out.

Supply Chain

As a fledgling company, our supply needs are constantly evolving and changing with time but we do our best to ensure that our partners and suppliers uphold the same environmental ethos that is the core of the work we do at Three Inches High.

Care for the environment is at the forefront of what we do and we only source from suppliers who share this commitment. When vetting incoming suppliers we look for recycled inventory, emissions offsetting, and sustainable harvesting inititives.
Need to Know More?
Return Policy

We have a 30-day return policy, which means you have 30 days after receiving your item to request a return. To start a return, you can contact us at hello@threeincheshigh.com. 

You can always contact us for any return questions at hello@threeincheshigh.com


Damages and issues
Please inspect your order upon reception and contact us immediately if the item is defective, damaged or if you receive the wrong item so that we can evaluate the issue and make it right.

Unfortunately, we cannot accept returns on sale items or gift cards.
Shipping Timelines

Orders will be processed as they come in. Typical processing time is 2-3 business days. Shipping estimates are based on volumes at the time of order.
Privacy Policy

This Privacy Policy describes how threeincheshigh.com (the "Site" or "we") collects, uses, and discloses your Personal Information when you visit or make a purchase from the Site.

Contact

After reviewing this policy, if you have additional questions, want more information about our privacy practices, or would like to make a complaint, please contact us by e-mail at hello@threeincheshigh.com or by mail using the details provided below:

421 McAlpine Road, Maynooth ON K0L 2S0, Canada

Collecting Personal Information

When you visit the Site, we collect certain information about your device, your interaction with the Site, and information necessary to process your purchases. We may also collect additional information if you contact us for customer support. In this Privacy Policy, we refer to any information about an identifiable individual (including the information below) as "Personal Information". See the list below for more information about what Personal Information we collect and why.

Device informationPurpose of collection:to load the Site accurately for you, and to perform analytics on Site usage to optimize our Site.Source of collection:Collected automatically when you access our Site using cookies, log files, web beacons, tags, or pixels Disclosure for a business purpose:shared with our processor Shopify Personal Information collected:version of web browser, IP address, time zone, cookie information, what sites or products you view, search terms, and how you interact with the Site Order informationPurpose of collection:to provide products or services to you to fulfill our contract, to process your payment information, arrange for shipping, and provide you with invoices and/or order confirmations, communicate with you, screen our orders for potential risk or fraud, and when in line with the preferences you have shared with us, provide you with information or advertising relating to our products or services.Source of collection:collected from you.Disclosure for a business purpose:shared with our processor Shopify Personal Information collected:name, billing address, shipping address, payment information (including credit card numbers, email address, and phone number.Customer support informationPurpose of collection:Source of collection:Disclosure for a business purpose:Personal Information collected:Purpose of collection:to provide customer support.Source of collection:collected from youDisclosure for a business purpose:Personal Information collected:Sharing Personal Information

We share your Personal Information with service providers to help us provide our services and fulfill our contracts with you, as described above. For example:

We use Shopify to power our online store. You can read more about how Shopify uses your Personal Information here:https://www.shopify.com/legal/privacy.We may share your Personal Information to comply with applicable laws and regulations, to respond to a subpoena, search warrant or other lawful request for information we receive, or to otherwise protect our rights.

Behavioural Advertising

As described above, we use your Personal Information to provide you with targeted advertisements or marketing communications we believe may be of interest to you. For example:

We use Google Analytics to help us understand how our customers use the Site. You can read more about how Google uses your Personal Information here:https://www.google.com/intl/en/policies/privacy/. You can also opt-out of Google Analytics here:https://tools.google.com/dlpage/gaoptout.We use Shopify Audiences to help us show ads on other websites with our advertising partners to buyers who made purchases with other Shopify merchants and who may also be interested in what we have to offer. We also share information about your use of the Site, your purchases, and the email address associated with your purchases with Shopify Audiences, through which other Shopify merchants may make offers you may be interested in.For more information about how targeted advertising works, you can visit the Network Advertising Initiative's ("NAI") educational page athttps://www.networkadvertising.org/understanding-online-advertising/how-does-it-work.

You can opt out of targeted advertising by:

FACEBOOK -https://www.facebook.com/settings/?tab=adsGOOGLE -https://www.google.com/settings/ads/anonymousBING -https://advertise.bingads.microsoft.com/en-us/resources/policies/personalized-ads]

Additionally, you can opt out of some of these services by visiting the Digital Advertising Alliance's opt-out portal at: https://optout.aboutads.info/.

Using Personal Information

We use your personal Information to provide our services to you, which includes: offering products for sale, processing payments, shipping and fulfillment of your order, and keeping you up to date on new products, services, and offers.

Retention

When you place an order through the Site, we will retain your Personal Information for our records unless and until you ask us to erase this information. For more information on your right of erasure, please see the 'Your rights' section below.

Automatic decision-making

If you are a resident of the EEA, you have the right to object to processing based solely on automated decision-making (which includes profiling), when that decision-making has a legal effect on you or otherwise significantly affects you.

We do not engage in fully automated decision-making that has a legal or otherwise significant effect using customer data.

Our processor Shopify uses limited automated decision-making to prevent fraud that does not have a legal or otherwise significant effect on you.

Services that include elements of automated decision-making include:

Temporary blacklist of IP addresses associated with repeated failed transactions. This blacklist persists for a small number of hours.Temporary blacklist of credit cards associated with blacklisted IP addresses. This blacklist persists for a small number of days.

 

Cookies

A cookie is a small amount of information that's downloaded to your computer or device when you visit our Site. We use a number of different cookies, including functional, performance, advertising, and social media or content cookies. Cookies make your browsing experience better by allowing the website to remember your actions and preferences (such as login and region selection). This means you don't have to re-enter this information each time you return to the site or browse from one page to another. Cookies also provide information on how people use the website, for instance whether it's their first time visiting or if they are a frequent visitor.

We use the following cookies to optimize your experience on our Site and to provide our services.




Cookies Necessary for the Functioning of the StoreNameFunctionDuration_abUsed in connection with access to admin.2y_secure_session_idUsed in connection with navigation through a storefront.24h_shopify_countryUsed in connection with checkout.session_shopify_mUsed for managing customer privacy settings.1y_shopify_tmUsed for managing customer privacy settings.30min_shopify_twUsed for managing customer privacy settings.2w_storefront_uUsed to facilitate updating customer account information.1min_tracking_consentTracking preferences.1ycUsed in connection with checkout.1ycartUsed in connection with shopping cart.2wcart_currencyUsed in connection with shopping cart.2wcart_sigUsed in connection with checkout.2wcart_tsUsed in connection with checkout.2wcart_verUsed in connection with shopping cart.2wcheckoutUsed in connection with checkout.4wcheckout_tokenUsed in connection with checkout.1ydynamic_checkout_shown_on_cartUsed in connection with checkout.30minhide_shopify_pay_for_checkoutUsed in connection with checkout.sessionkeep_aliveUsed in connection with buyer localization.2wmaster_device_idUsed in connection with merchant login.2yprevious_stepUsed in connection with checkout.1yremember_meUsed in connection with checkout.1ysecure_customer_sigUsed in connection with customer login.20yshopify_payUsed in connection with checkout.1yshopify_pay_redirectUsed in connection with checkout.30 minutes, 3w or 1y depending on valuestorefront_digestUsed in connection with customer login.2ytracked_start_checkoutUsed in connection with checkout.1ycheckout_one_experimentUsed in connection with checkout.sessionReporting and AnalyticsNameFunctionDuration_landing_pageTrack landing pages.2w_orig_referrerTrack landing pages.2w_sShopify analytics.30min_shopify_dShopify analytics.session_shopify_sShopify analytics.30min_shopify_sa_pShopify analytics relating to marketing & referrals.30min_shopify_sa_tShopify analytics relating to marketing & referrals.30min_shopify_yShopify analytics.1y_yShopify analytics.1y_shopify_evidsShopify analytics.session_shopify_gaShopify and Google Analytics.session

[INSERT OTHER COOKIES OR TRACKING TECHNOLOGIES THAT YOU USE]

The length of time that a cookie remains on your computer or mobile device depends on whether it is a "persistent" or "session" cookie. Session cookies last until you stop browsing and persistent cookies last until they expire or are deleted. Most of the cookies we use are persistent and will expire between 30 minutes and two years from the date they are downloaded to your device.

You can control and manage cookies in various ways. Please keep in mind that removing or blocking cookies can negatively impact your user experience and parts of our website may no longer be fully accessible.

Most browsers automatically accept cookies, but you can choose whether or not to accept cookies through your browser controls, often found in your browser's "Tools" or "Preferences" menu. For more information on how to modify your browser settings or how to block, manage or filter cookies can be found in your browser's help file or through such sites as: www.allaboutcookies.org.

Additionally, please note that blocking cookies may not completely prevent how we share information with third parties such as our advertising partners. To exercise your rights or opt-out of certain uses of your information by these parties, please follow the instructions in the "Behavioural Advertising" section above.

Do Not Track

Please note that because there is no consistent industry understanding of how to respond to "Do Not Track" signals, we do not alter our data collection and usage practices when we detect such a signal from your browser.

Changes

We may update this Privacy Policy from time to time in order to reflect, for example, changes to our practices or for other operational, legal, or regulatory reasons.

Complaints

As noted above, if you would like to make a complaint, please contact us by e-mail or by mail using the details provided under "Contact" above.

If you are not satisfied with our response to your complaint, you have the right to lodge your complaint with the relevant data protection authority. You can contact your local data protection authority, or our supervisory authority here: [Add contact information or website for the data protection authority in your jurisdiction. For example: https://ico.org.uk/make-a-complaint/]

Last updated: [Date]